VVCP 2020/21 Board Members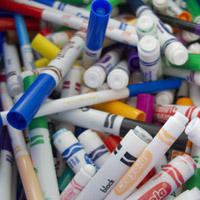 The VVCP board consists of 11 parent volunteers that meet monthly to discuss the business details of the preschool. We are not associated with the Saskatoon Public School Board or any other associations.  Our success is a direct result of the time and effort put forth by our families as a whole.
We are a fun and dedicated group of parents and grandparents, committed to keeping a preschool at Brunskill/KCC for generations to come. Please consider joining us in the upcoming year. One of the perks of being a board member is that you are able to pre-register for the upcoming school year.
If you have any concerns please contact the appropriate board member. He/she will be happy to assist you.
---
Board of Director Positions:
President
oversees all aspects of operating the preschool, including liaising with the Saskatoon Public School Board, SGI and Industry Canada.
Runs monthly board of directors meetings, the Annual General Meeting and parent orientation night
develops, implements and ensures compliance with policy along with other board members
meets with parents
has signing authority
Vice President
assists President with all responsibilities as needed
steps in when President is unable to fulfil responsibilities
has signing authority
Registrar
accepts registrations, organizes class lists and manages all aspects of registration, including orienting new families, updating registration information and assisting parents.
Notifies the board of all changes to the registration list
Treasurer
oversees all financial operations for the preschool, including making deposits, paying bills, bookkeeping and readying documents for the accountants to prepare the annual financial statement
has signing authority
Secretary
takes minutes at monthly board of director meetings
accepts and distributes official paperwork between directors and/or members (see bylaws in the back of the handbook)
Teacher Liaison
acts as a go between for parents, teacher and the board of directors
takes concerns, questions and requests and relays from parents to the board, as well as from the board to members of the cooperative
purchases some supplies (mainly cleaning) for the classroom
checking over some paperwork to send to the treasurer
Fundraiser
oversees and organizes the preschool's fundraising efforts for the year, which often consists mostly of a large spring carnival or dance
Online coordinator
sets up calendar, sends out notices for signups including volunteer assignments and party days
assists with online volunteer sign up, and ensuring that there is a parent volunteer for each class, either morning or afternoon, as well as ensuring volunteers are fulfilling expectations
Substitute Teacher Coordinator
First contact for when teacher is sick, responsible for letting the membership know that there will be a substitute that day.
Responsible for assembling a substitute list, or pulling from a list of volunteer parents, so as not to have to cancel the day of preschool
Members-at-Large (2 positions)
attends and votes at all board of director meetings
assists other members of the board as required
All positions are required to attend monthly board meetings, as well as vote on motions put forth, act as key-holder for one toy wash per year, and assist in all aspects of operating the preschool as needed.
Key positions have more detailed information that is passed along from each year's board.
---
A Message From Our Teacher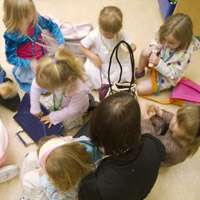 Dear Parents/Guardians,
Welcome to Varsity View Co-operative Preschool, for the 2021-2022 school year! My name is Jennifer Trottier (Mrs. T) and this is my fourteenth year as teacher with VVCP. I am looking forward to another fantastic year! The preschool has proven to be a very engaging place with great board members and enthusiastic families who are eager to share in the joys of early childhood education.
I believe that preschool provides children with an opportunity to build confidence and new friendships, while fostering a growing enthusiasm for learning. It is an engaging and energetic place to be, where exciting learning experiences await each day. My job is to help your child to develop a positive outlook on school at the early beginnings of education. I aim to create an enjoyable and comforting environment for children to be among friends while feeling safe under the guidance of an understanding and approachable teacher.
Keeping the lines of communication open is very important to VVCP as it enables members of the board, myself and parents/guardians to share in the positive experiences of the children while feeling comfortable in voicing questions or concerns, should any arise. To aid in communication I will be sending out a monthly newsletter which will outline important preschool information and reminders; including thematic units, special activities, field trips, dates to remember and important notes concerning parent involvement. Every day before class I will also post the day's planned activities on the white board (outside the classroom) so as to create a shared understanding and enthusiasm for each day.
Please feel free to approach me before and after class to talk, if need be. With your co-operation I am confident that we will have a wonderful and successful school year together!
I look forward to meeting you in the fall,
Mrs. T
---
Website:
Problems? Troubles? Questions? Suggestions? Contact Roger Williamson