Please note that the schedule may change slightly depending on special activities, such as music, gym and library times that we acquire once the school year begins.
9:00-9:10 / 12:45-12:55
Table Time – Children will be invited to sit/stand around one of the tables where puzzles, colouring or table games will be set out for them to explore. This creates an engaging beginning to our day where children can easily talk to one another.
9:10-9:30 / 12:55-1:15
Circle Time: Sharing circle, daily calendar, thematic discussion (topic of the day), songs, literacy and/or numeracy activities. Through circle time we will be building on good listening, participation and interaction with peers through discussion while learning about new and exciting things!
9:30-9:55 / 1:15-1:40
Group Project/Craft Time: Cohesive participation will be encouraged during this time. As a group we will engage in 'creative art' or sensory activities. Thematic craft ideas throughout the year will enable the children to develop their own artistic and imaginative ideas and learn new methods in guided art projects. This time may also be dedicated to science experiments, such as building a volcano or balloon rockets. Depending on the season and thematic unit, other group activities that encourage co-operation will be incorporated such as baking, making a batch of play dough, or preparing a special snack together.
9:55-10:15 / 1:40-2:00
Imaginative play time – Learning Centers: Children will be encouraged to just play and/or explore in the various learning centers (sand/water table; building blocks; dramatic play/dress up, painting at the easel, sculpting with play dough, etc.). During this time Mrs. T will move around from center to center, prompting ideas, engaging in play and helping children to build on early concepts and social communication skills.
10:15-10:30 / 2:00-2:15
Show and Tell/Sharing Time: The Helping Hand will present, in a group setting, their sharing to the class. This is a fun way for the children to discover more about each other. It opens up discussion about family and our surroundings.
10:30-10:45 / 2:15-2:30
Snack: Please provide your child with nutritional and NUT FREE snacks. We promote good nutrition and we would like to encourage you to pack healthy snacks. Again, we suggest no more than two items as time is valuable.
10:45-11:00 / 2:30-2:45
Story Time/Language Development: As each child finishes their snack they are invited to read on the circle time mat. Each day the children will be read a selection of stories pertaining to the thematic unit that they are exploring at the time. Children will participate in various language development activities and finger play.
11:00-11:30 / 2:45-3:15
Outside Play/Motor Skill Development: We will end the day by participating in large motor skill development through play on our outside equipment. On days where we are unable to go outside we will participate in cooperative games or movement songs. If children are not in the playground during dismissal, parents may wait in the hallway outside the preschool room for their child to be dismissed.
---
ADDITIONAL NOTES: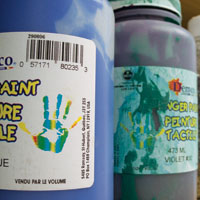 Learning the Letters:  We will be learning our letters (and numbers) on a daily basis through thematic activities.  On one day of the week our focus will be on the letters of the alphabet.  We will learn about one letter weekly through a letter story (i.e. Alligator Al), learn a song about the letter, practice tracing and writing the letters in our duo tangs and create a craft based on that letter!  Alphabet Bingo is a big hit and provides repetitive exposure to the alphabet from September until June.
Home Toys: I ask that toys from home are NOT brought to class, or that they be kept in backpacks during circle time, play time and craft time to encourage good listening and play with other toys and resources in our centers.  I understand that often toys can aid in comforting a child, so they may bring them and hold them for the beginning of class before circle time begins (and visit them periodically, if need be).
Preschool Scrapbooks:  Each child will use their scrapbook to exhibit 1-2 crafts per unit as well as writing, pictures, independent art etc.  In this way the children can have a collection of their work together as a keepsake of preschool memories, and a way to share their accomplishments with friends and family.
Would you like notification?  We are fortunate to have a wonderful teacher who rarely misses a day.  In the event that the teacher is unable to come in for class, the board does its best to have an educationally trained replacement on-hand for these instances.  However, this ideal is not always realistic.  Therefore, we may need to have a board member or a parent conduct the class in order for us to operate. If you feel your child will not be comfortable staying in the class with the teacher not leading, please let us know.  We can do our best to notify you via email as soon as we know the teacher will not be able to attend class.
---
Qualified Substitutes:
VVCP is in need of a longer "substitute" list.
If you, or someone you know (ie. Mom or Dad, Aunt or Uncle, neighbour or friend) is interested in conducting preschool from time to time, the board would be extremely grateful for your help.  Compensation of $90 per 1/2 day will be provided.  To ensure the safety of our children, the board asks that those interested be willing to complete a Criminal Record Check and provide references.