A Message From Our Teacher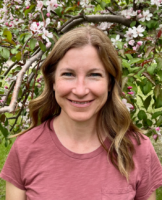 Dear Parents/Guardians,
Welcome to Varsity View Co-operative Preschool, for the 2023-2024 school year! My name is Jennifer Trottier (Mrs. T) and this is my sixteenth year as teacher with VVCP. I am looking forward to another fantastic year! The preschool has proven to be a very engaging place with great board members and enthusiastic families who are eager to share in the joys of early childhood education.
I believe that preschool provides children with an opportunity to build confidence and new friendships, while fostering a growing enthusiasm for learning. It is an engaging and energetic place to be, where exciting learning experiences await each day. My job is to help your child to develop a positive outlook on school at the early beginnings of education. I aim to create an enjoyable and comforting environment for children to be among friends while feeling safe under the guidance of an understanding and approachable teacher.
Keeping the lines of communication open is very important to VVCP as it enables members of the board, myself and parents/guardians to share in the positive experiences of the children while feeling comfortable in voicing questions or concerns, should any arise. To aid in communication I will be sending out a monthly newsletter which will outline important preschool information and reminders; including thematic units, special activities, field trips, dates to remember and important notes concerning parent involvement. Every day before class I will also post the day's planned activities on the blackboard (outside the classroom) so as to create a shared understanding and enthusiasm for each day.
Please feel free to approach me before and after class to talk, if need be. With your co-operation I am confident that we will have a wonderful and successful school year together!
I look forward to meeting you in the fall,
Mrs. T
"My twins are kids 3 and 4 to go to this school. It's not in our neighbourhood but it's worth the drive. They have outside time every day in their own area right off the preschool. The teacher Mrs T has the patience of a saint and the kids flourish under her care. It is a cooperative so you get to volunteer once a month and watch your children grow and learn to share and be a friend. Recommend to all my friends!"
"We LOVE VVCP! Mrs. T is so kind, patient, and amazing with the children. They truly thrive in her classroom.
Free play with friends, structured discussion and practice time, and lots of outdoor play in a beautiful private play yard. You'll love it!"
"Mrs T is magical. I'm so happy to be sending my son to preschool with her. My son absolutely loves it".